Juvéderm®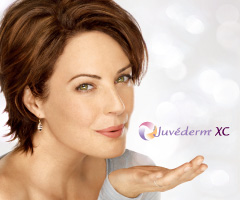 Are you troubled by some of the changes that aging brings? Juvéderm is a popular, safe and effective treatment offered by Lee's Summit Dermatology Associates to help you look your best.
Juvéderm is an injectable forms of hyaluronic acid, used to diminish unwanted facial wrinkles, folds and lines. Hyaluronic acid is the natural fluid matrix that bathes the skin fibers. Both injectables are used to help blunt the sharp folds between the nose and the corner of the mouth. We also use it to successfully restore some of the natural edge and volume of the lip, and for some types of acne scars and wrinkles in other facial areas. One treatment with Juvéderm lasts 9 months to a year. Treatment usually takes about 30-45 minutes depending on the areas treated.
Why stop there? Do you have wrinkles that move? Juvéderm and BOTOX® Cosmetic go well together. Botox helps with wrinkles created by your muscles and Juvéderm fills in other lines, making them a dynamic combination.
Please contact us to schedule a consultation to see if Juvéderm is right for you.
Click on the informative links below for additional product information: