Laser Genesis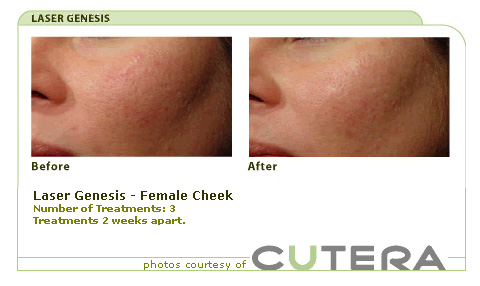 We all want to look our best. Laser Genesis skin therapy is a terrific way to treat some of the signs of premature aging and sun damage such as excessive redness, large pores, uneven texture and fine-line wrinkles. Both men and women benefit from this procedure.
The Laser Genesis procedure has been scientifically proven to produce new collagen, the fibrils that compose a majority of the skin. This non-invasive laser passes through the top layer of skin painlessly, safely and quickly. It gently heats the collagen fibers in this outer layer, leading to production of collagen and reduction of redness. This correlates to improvement in the appearance of large pores, minor imperfections, acne scarring, diffuse redness and irregular skin texture.
At Lee's Summit Dermatology Associates, we combine this with other medical and cosmetic acne and rosacea treatments to help clear the skin more efficiently and reduce scarring. Patients can expect to see subtle yet consistent results after each treatment, without unwanted side effects such as bruising or excessive skin irritation. Treatments can be performed in a relaxed, comfortable manner, without the use of topical anesthetics or gel. On average, four to six treatments help to achieve optimal results. Every patient's condition and needs vary. Please contact us for specific details about your individual treatment.