Radiesse®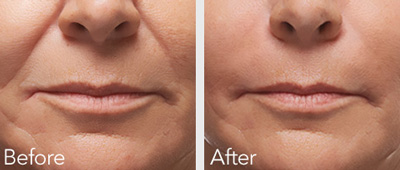 Do you wish to restore that youthful, healthy look without surgery? Wrinkles, lines and laxity of the skin can be comfortably treated with the popular treatment Radiesse®.
Radiesse is an injectable wrinkle filler consisting of calcium-based microspheres. In addition to the instant correction of wrinkles, Radiesse increase the production of your own collagen which leads to the long-lasting results that our patients prefer.
Radiesse is a wonderful and very safe way to correct moderate to severe facial skin wrinkles and folds. We also use it for facial contouring and deep tissue augmentation to restore a youthful look. Another use is for adding volume to re-plump the back of the hands. The injections are given quickly and comfortably, and the results last for a year or longer.
Radiesse injections are just one part of the facial rejuvenation process. Radiesse is frequently combined with BOTOX® Cosmetic injections and laser treatments. Please contact us to schedule your treatment.