Wart Treatments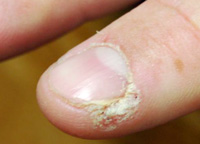 At Lee's Summit Dermatology Associates we treat a lot of warts! Treating warts is very challenging and no therapy has been shown to be 100 percent successful. Our patients usually find a combination of therapies to be most effective.
Warts are caused by the Human Papilloma Virus (HPV) infection and usually go away on their own with time. Over-the-counter treatment with salicylic acid is the most common treatment.
We are committed to assisting in your quest to get rid of your warts using both traditional and non-traditional therapies. Please contact us for more information.